Hello, my name is Enrique Gómez Castro, I am 20 years old.
I grew up in the community of Hatumpampa in the district of Los Morochucos, Cangallo, Ayacucho. My parents are also from Hatunpampa and are farmers. We have always lived from the land, cultivating maize, potatoes and beans, mainly for our own consumption. To generate a small income, we also grow quinoa and my mother takes care of the cattle.
I used to study in the Pampa Cangallo school, but because of my bad behaviour and perhaps because I was going in the wrong direction, my parents decided to move me to another school in the community of Incaraccay, which is closer to my village. When I was there, one day in March, at the beginning of the schoolyear year, I heard about the Jovem Project. The team was inviting new students to participate in the project.

I have always liked the countryside, driving a motorbike and learning new things. I like to take risks, to gamble, but always analysing and calculating, something I learned in the Jovem project. I like the JOVEM project, as it teaches us how to set up our business and motivates us to keep on going. The team has taught me many things, such as the technical skills I need for my greenhouse. Thanks to the JOVEM project I am taking steps forward. I advise new students to take full advantage of the teachings, to make their dreams come true, as I am doing with my strawberry production.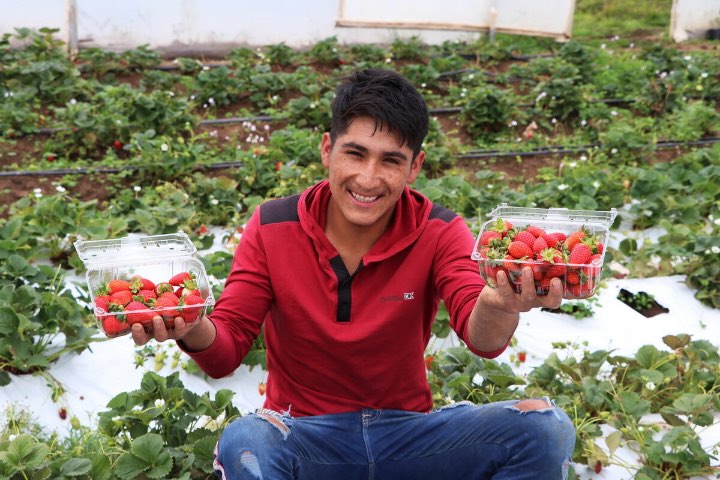 I have many dreams, among them to be a great entrepreneur. I discovered that I have opportunities thanks to the Jovem Project and Montefino, because they made me see that I can do business in the countryside, feeding the population with my enterprise. I got interested in the production of strawberries, an idea that was born in the Jovem project and that we have developed until its execution. I now manage to sell them without any difficulty in the pastry shops of Pampa Cangallo. Sometimes they even come and pick up strawberries at my greenhouse. This excites me a lot and I have decided to improve my production even more, to expand in other locations in the future. I'd also like to improve my packaging and enter new markets.

In life there are always difficulties and big challenges, but I believe that I have the knowledge and the attitude to overcome them. My dream is to enter university. I am saving up for this, with the earnings from my own business, producing strawberries in my greenhouse.