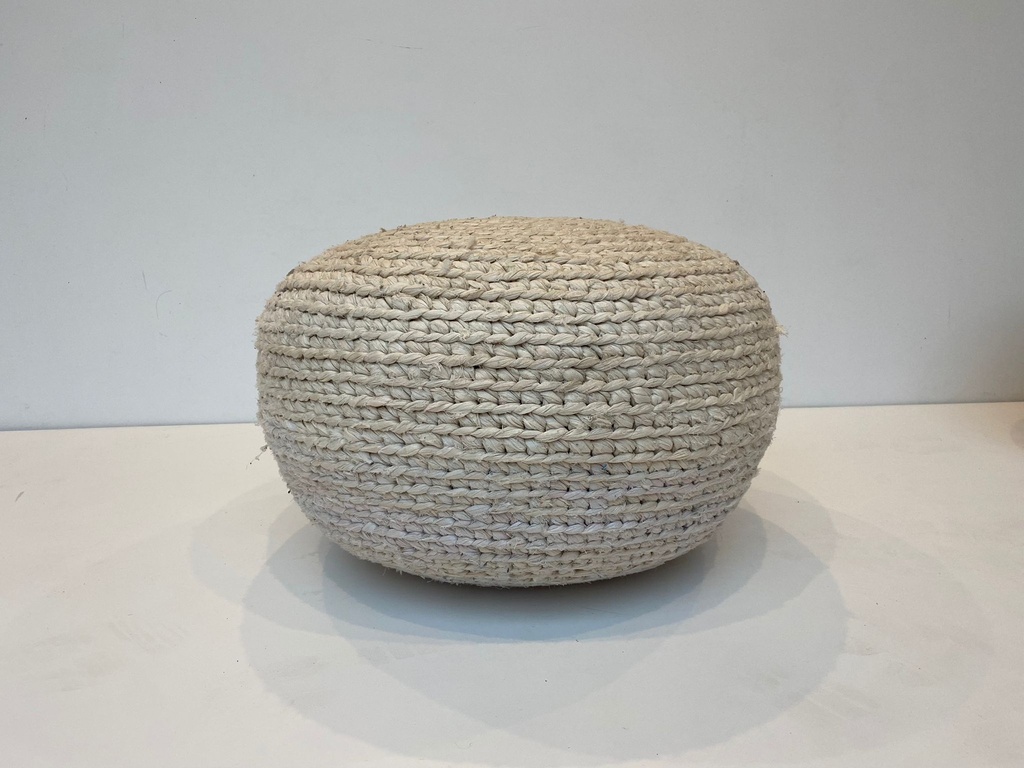 Pouf Cotton Swan - Large
Handmade fair-trade pouf using vintage recycled cotton ribbon - Model cotton swan (filled + cotton liner) - large
Poufs with personality
These poufs are handmade from recycled and repurposed local saris, found in every woman's wardrobe in India, demonstrating a real example of the circular economy. Therefore, each rug has a unique design, always different, never the same. Thanks to the artisans' creative designs, they make it possible to turn worn sarees into something new and beautiful. Without a doubt, these poufs will be an eye-catcher that add cosiness and character to your home.
100% handmade in India
​
​MATERIAL
     The poufs are made from cotton or silk saris.
​
COLOURS
     The cotton saris come in Cool Blue, Dark Vibes, Eclectic, Green Glow, Pink & Purple, Pretty Pastel, Red Flame or Yellow & Orange. The silk sari rugs are having a more    
     Scandinavian minimalistic look and feel. Customized colour schemes or dimensions are available on request. 
DIMENSIONS
     The poufs come in a diameter of 42 cm or 50 cm.                                       
CARE & USE  

     -       Wash separately at maximum 30ºC.
     -       Use a gentle cycle and mild detergent, without bleach.
     -       Dry flat.
     -       Avoid exposure to direct sunlight.
     -       Spot cleaning when small, local spots.
     -       Vacuum regularly.
     -       If you find a loose thread, cut it with scissors, do not pull.
     -       Each product is handmade. For this reason it may have some minor 'imperfections'. These characteristics, which differ from product to product, are a guarantee of absolute authenticity. 
​
Who made my product?
At Solid, we are committed to building a strong, fair and sustainable fashion and homew are industry, with a production in Peru, India and Kenya that values and upholds artisans, their craftsmanship and their communities . With products that are high on quality and only use the best natural fibers, Solid is committed to the development of Solid's artisan workshops promoting fair trade good practices .